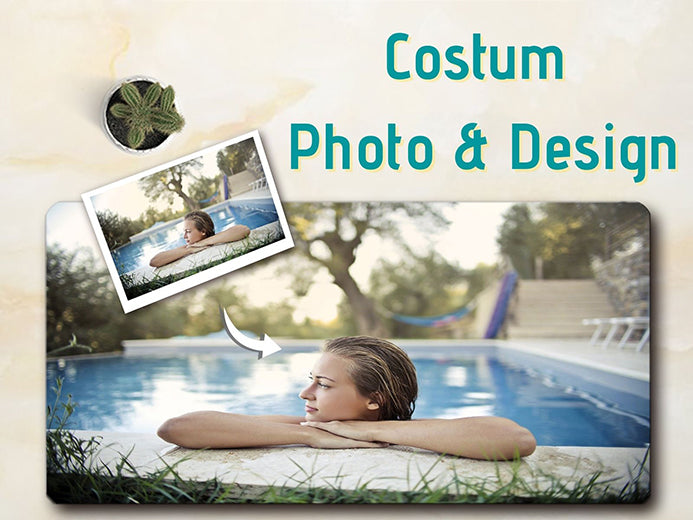 DeskTheme is here to offer you with a large variety of desk pads which cover many different ideas and solutions. However, we know that not everyone might find the desk pad they want, which is why we are here to help. We created a dedicated custom desk pad service where you can easily come and bring in your own image for a cool, amazing desk pad that helps you express yourself.
Why should you get a custom desk pad?
The reality is that everyone wants to have a desk pad that helps them represent themselves and express their ideas. Although our company has a vast range of models to choose from, we also make it easy for you to create your own desk pad. It's a cool concept, and one of those things that can help push your experience to the next level.
On top of that, a custom desk pad can help cover your entire desk and prevent it from scratches and dents. It also offers a much better grip, since there are no parts of the desk that remain uncovered. You can also prevent accidental damage to your computer from spilled liquids. As you can see, investing in a custom desk pad is great for your desk, and it also brings in a distinct visual appeal.
What dimensions can you choose from?
We provide custom desk pads that are 10x16, 12x18, 14x24, 16x32 and 18x36 inches. You can easily pick any of these options, and you will be incredibly happy with the results and experience. We recommend you to check these out for yourself, and see which one suits your needs the most. All custom desk pads are 0.12 inches thick, regardless of what size you are opting for.
How can you customize your desk pad?
In order to customize your desk pad, you will need to send us images via our email address, and then we will print the image onto your custom desk pad in no time. We recommend you to send the samples over and then our graphic designers will adapt that to your desk pad so it looks amazing.
The recommended size is at least 1920x 1080, and we strongly encourage you to go for the highest DPI that you can. The higher the resolution you go for, the better the results you can get. We prefer high resolution JPG images or vector PDF files. In case you want custom thickness for your desk pad too, then let us know and we will gladly assist with that too.
Conclusion
We are always ready to help if you want a cool, custom desk pad for your office space. Not only do you get to showcase your own ideas, but it can help cover your entire desk without a problem and prevent it from any damage. A good custom desk pad will also have custom thickness and high quality images printed onto it. Don't hesitate and contact us today for the best, coolest custom desk pads!
Apr 12, 2021

Category:

News
Comments: 0